Features
Manage your SEC
Insider Reporting
Effortlessly
Simplify your Section 16 Forms in five steps

1. Enter

2. Create Filers

3. Create Form

4. Validate

5. Submit
Our Section 16 web based self filing solution allows issuers, insiders, attorneys, and filing agents to submit Forms 3, 4, and 5 at an affordable price directly to the SEC within minutes. Our system includes a variety of features in order to make filing convenient and easy, including the ability to: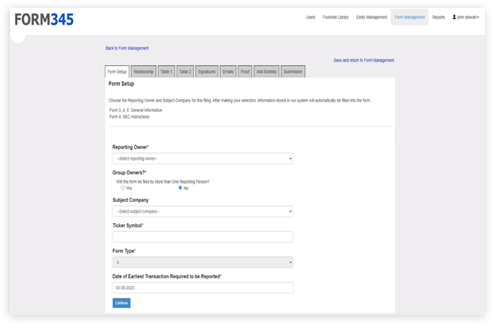 Easy Filings
Save, archive, and re-use forms for use in future filings
Add multiple reporting owners to one form
Upload Power of Attorney or other allowed exhibits
Add multiple reporting owners to one form
Time-Saving Automation
Manage SEC filers: sync profile with SEC public data, manage EDGAR codes, etc.
Footnote Library allows storage and easy import of footnotes
Track reporting owner holdings for auto-population into forms
Auto-populate filer relationship and other data into the forms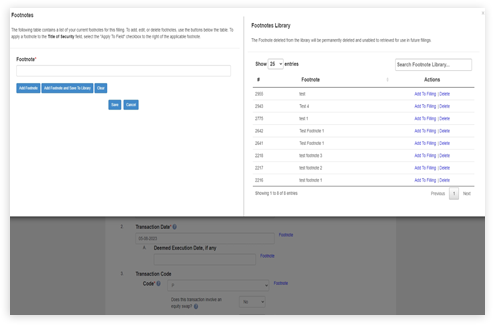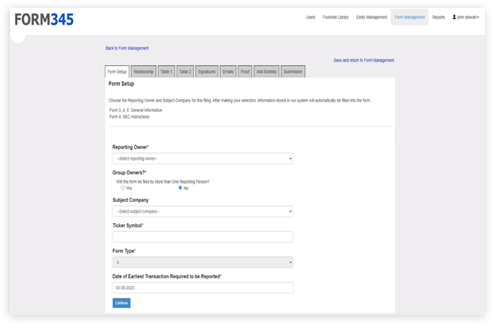 Take Control of the Process
Create and email proofs to third-parties
Add multiple emails for automatic SEC filing notification
Check SEC filing status on the site
SEC Compliance
Proper field validation to ensure your form meets SEC standards
Form and field tips provided to help you stay compliant
Test and live file directly to the SEC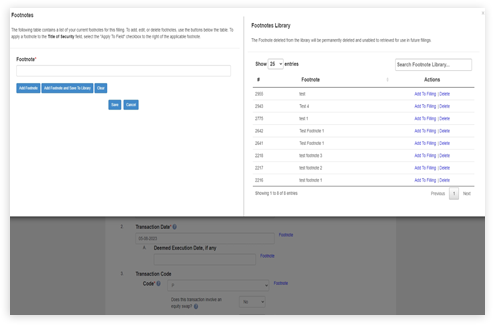 Other great reasons to
choose our section 16 solution include

Time Efficiency
Go at your own pace when creating your filing, making changes, sending proofs, or live filing. Our system provides tips, validation and the necessary tools to help you submit your filing with ease in a timely fashion.

User Friendly
We've reduced complications of the filing process by creating a user-friendly design that is easy to understand and navigate through.

Gain Control & Eliminate Risk
Manage the entire process yourself without having to rely on third-parties for proofs, corrections or potential errors.

Accessibility
The software is entirely web-based and allows you to securely access your information from any device, anywhere in the world, 24 hours a day, 7 days a week.